Marwood Company History
1919-1960     Marwood company history dates back to when  Lyman Martin and Jim Courtenay (our grandfathers) worked for the Mengel Company in Louisville, Kentucky for their entire working lives, eventually becoming President and General Manager, respectively.
The Mengel Company was a large manufacturer and distributor of timber and timber based products. It produced Mahogany and domestic species and operated veneer and lumber mills in Louisville, Ky., Hickman, Ky., and Belize, British Honduras. It formed the Mengel Body Co. in 1922, manufacturing wooden sub-assemblies used in the framing of Ford, Chrysler, Franklin, and Packard automobile bodies.  By 1955 the Mengel Co. was the largest manufacturer of hardwood products in the country.
The 56 year old company had 16 manufacturing plants in 8 states, and another on the Gold Coast in West Africa.  Products included corrugated boxes, plywood, lumber, veneer, furniture, doors, and kitchen cabinets. The company's stock was traded on the New York Stock Exchange from 1920 to 1960 when the Container Corporation of America purchased the remaining operations.
Mengel Company Staff  in 1920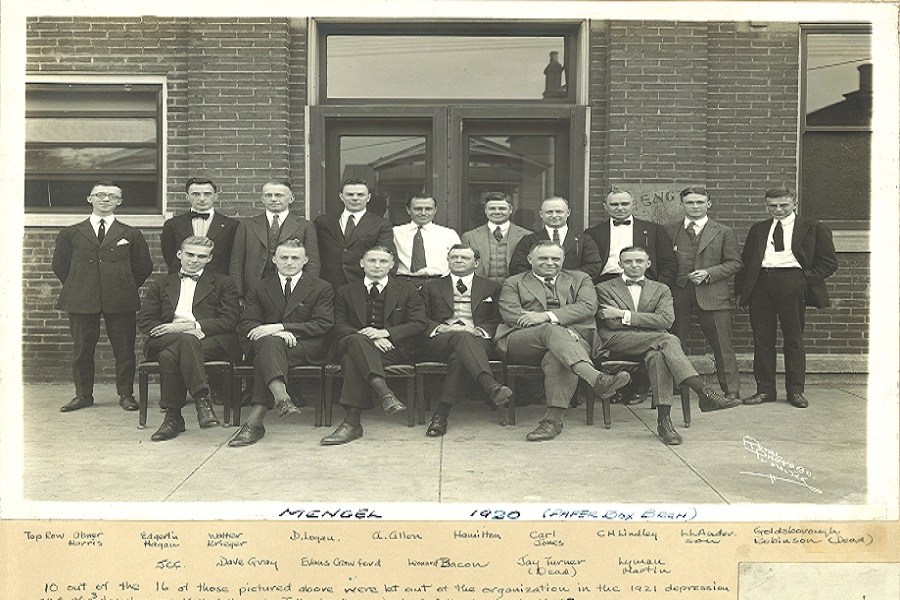 Jim Courtenay (seated far left)            Lyman Martin (seated far right)
1950-1955       Lyman Martin, Jr. (our father) worked for the Kentucky Veneer Works a veneer mill in Louisville, Kentucky
1955                Lyman Martin, Jr. starts Martin Sales Co. representing the Mengel Company, Hill Brothers Veneer Co., a slicing mill in  Edingburg Indiana, and Ashby Veneer & Lumber Co., in Jackson, Tennessee. a southern rotary poplar mill. Located on  Franklin Street from 1955-1961.
1961                Martin Sales Co. becomes Marwood, Inc. Located at 2101 Standard Avenue from 1961-1970. Indiana Walnut and White Oak are popular with our office furniture and plywood customers.  Baldwin Piano Co. is a large customer for poplar veneer.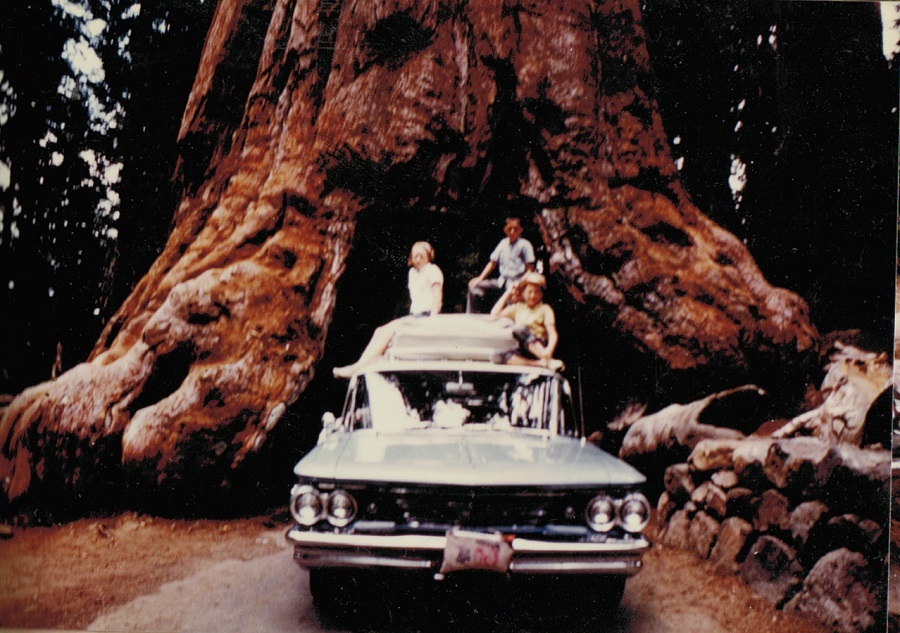 Lyman, Jim, and their sister Louise searching Redwood Forests for Burls at an early age!
1964                Marwood, Inc. imports veneer from Europe for the first time. German Timber Agent Heinz Busold, becomes part of the                                  Marwood "family". Teak, Rosewood, Ebony, Satinwood, and other Exotic veneers are introduced to our customers to                                        complement domestic species.
1965-1970       Marwood hosted popular fishing trips to Lake Cumberland for Customers and Suppliers
 Sitting:                                   Lyman Martin, Jr.
Squatting Left to Right:     Ray Brower, unknown, Dude Cox, Bill "Duke" Kraemer, Pete Armstrong
Standing Left to Right:       Bob Lee, unknown, unknown, unknown, Al Bowen, Bud Howland, Elmo Alexander, unknown, Jack Hill, Walt Hoefner, Tommy Newton
1970-1977     Imported Burl veneers from Europe, such as Ash, Elm, and Mappa Burls become popular with furniture producers in                                         North Carolina, such as Thomasville, Drexel, Henredon, and Baker.  Garfield Avenue location.
1977-1979     Lyman Martin, III and Jim Martin join the firm. Located at the Louisville Air Park
1980  Jim Martin travels to South America for the first time, working with agent Donald Meguire, who is originally from Louisville.                        Importing in the beginning just from Brazil, other sources developed over time are in Bolivia, Peru, and Chile. 
Jim Martin on the log pile in his coat & tie!
1982                Marwood starts representing Amos-Hill Associates, successor to Hill Brothers Veneer Company. We are on hand at 6:00                                  am as Richard Wertz and Connie Burton slice their first logs.
1983                Our founder, Lyman Martin, Jr. passes away.
1984                Construction of our 11,000 sq. ft. plant and offices at 2901 Hamburg Pike, in Jeffersonville, Indiana is completed.  Steve                                  Smith starts representing Marwood in High Point, North Carolina.
1986                A 76" Lathe is installed for our own Burl Veneer production.  Major species produced are American Walnut, Madrone,                                        Redwood, Myrtle and Maple Burls. International buyers start travelling to Marwood for our high quality production,                                          including Rolls Royce, and producers of dashboards for Mercedes Benz, BMW, and other luxury automobiles.
1988                Marwood News begins publication.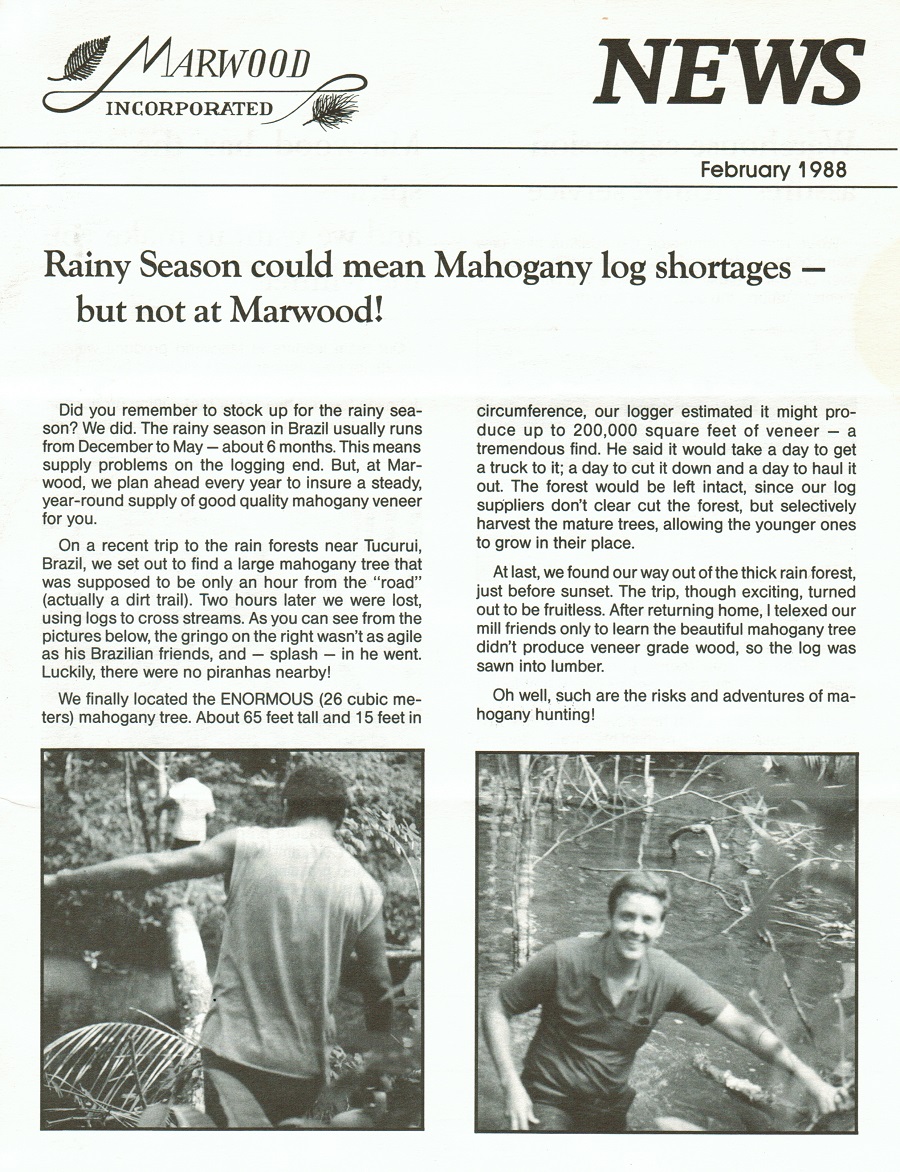 1988                Plant addition of 6,000 square feet. Many customers, suppliers, and friends are on hand for the opening.  Architectural                                      Veneers are in high demand.
                                 BURL BARONS – Giant Walnut Burl Log puts Marwood in the spotlight in the news in National and International Wood                                    publications.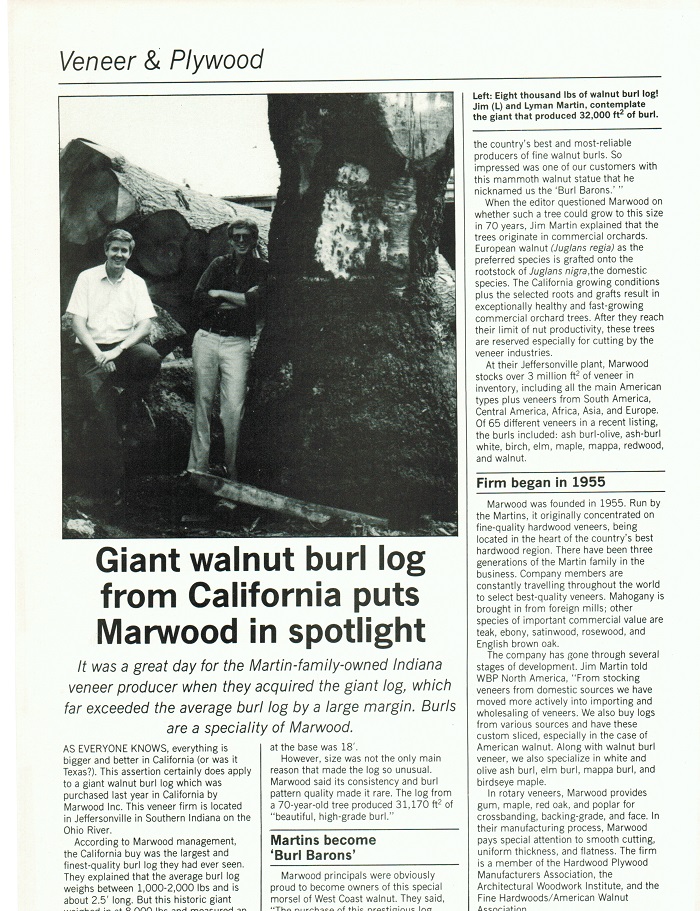 1988-present  International Woodworking Fair, Atlanta, Georgia – Marwood begins exhibiting at the largest industry trade show.  Our                                   "Outshine 'em all!"Complimentary shoeshine service is popular in the early years.
1988-1990       The Woodchoppers Golf Tournament is hosted in Lexington, Ky. sponsored by Marwood, Woodstock, and Formwood.
1991                Marwood becomes a founding member of the Hardwood Forestry Fund (HFF). Jim Martin serves as Chairman of the                                       Hardwood Forestry Fund for the first 11 years. The HFF plants millions of hardwoods on public owned property with                                       Forest Management Plans in 28 states and 4 foreign countries.  www.hardwoodforestryfund.org
Marwood starts traveling to and importing from Central America, with its first trip to Guatemala buying Mahogany                                            veneer.
1992                More Marwood News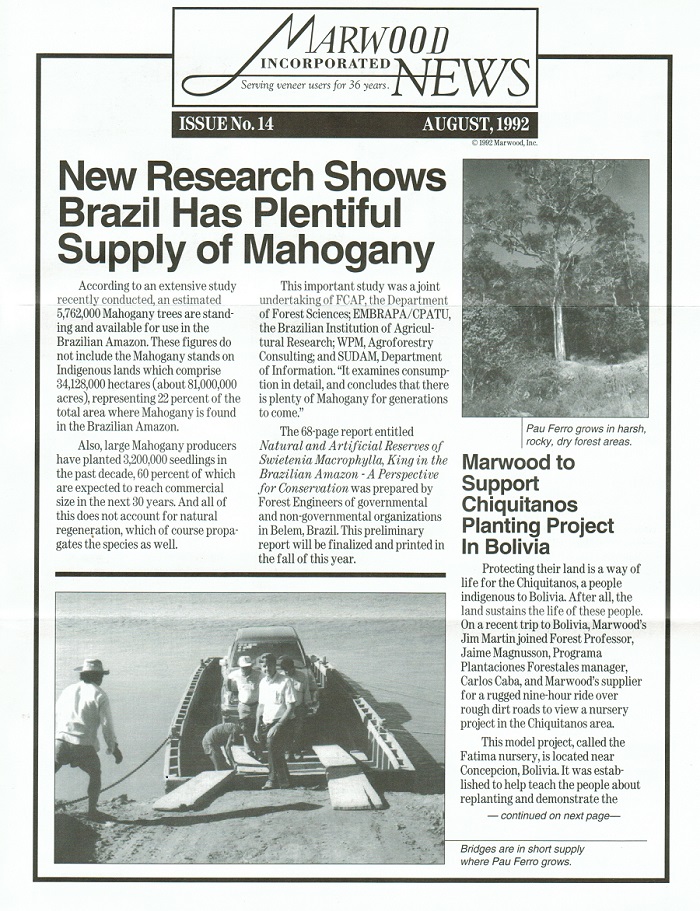 1998                Our exhibit at the International Woodworking Fair (IWF) attracts visitors and prospective buyers from the U.S. and                                            abroad.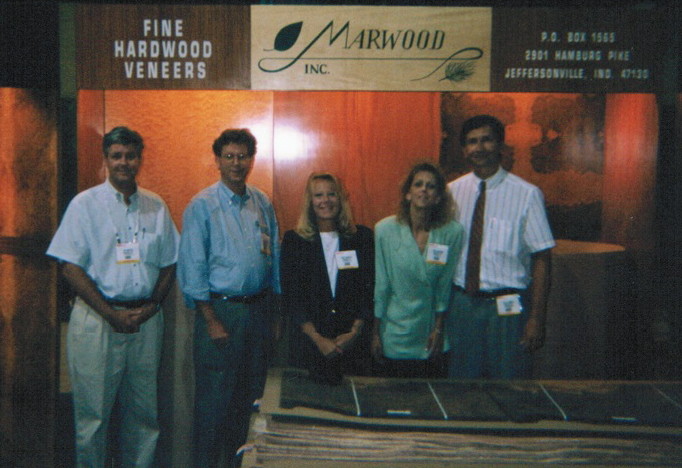 Left to Right: Jim Martin, Lyman Martin, Kris Jackson, Vicki Dodson, and Steve Smith
1999                Marwood launches its website at www.MarwoodVeneer.com
2000-2002       The Woodchoppers Golf Tournament in Lexington, Ky. is sponsored by Marwood, Formwood, Woodstock, and Parrot                                     Williams.
2003                Domestic Sales and Export Sales of Burl Veneer production for automobile dashboards grows as residential furniture                                        production in the U.S. declines.
2007                The financial crisis hits and business slows down.
2008                Marwood starts representation of Clarke Veneers and Plywood of Jackson Mississippi, selling imported stock panel                                           imported veneers for Faces, Backs, and Cores.
2010                We produce Reclaimed "Old Growth" Sinker Cypress veneer and lumber from the Southeast Coast of the United States                                     for the first time.
2011                Visit to African Mahogany Planting Project in Tanzania; partnered with the Hardwood Forestry Fund and the Jane                                                Goodall Institute in 2001. FSC Certified through the Indiana Department of Natural Resources.
Marwood started selling veneers used in the manufacturing of Skateboards and Longboards.
2013                Started custom producing live edge lumber slabs of figured Walnut, Myrtle, and Maple boards.
Current Team of Hardwood Specialist From Left to Right:
Jim Martin, Jenny Newton, Bobby Cummings, Fred English, Larry Verrick, Ryan Childers, and Lyman Martin