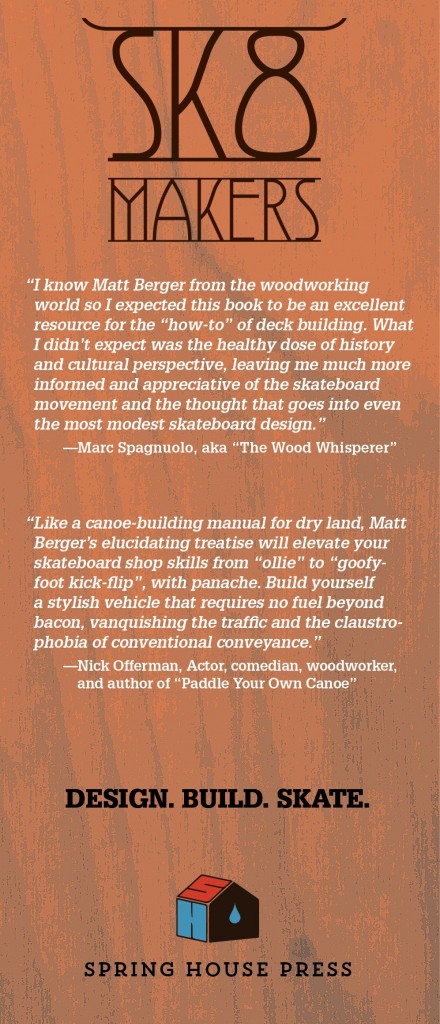 The Handmade Skateboard
Author:

Matt Berger

Pub Date:

September 15, 2014

ISBN:

978-1-940611-06-8

List Price:

$24.95

Specs:

160 Pages, 4C, PB, 8 x 10

Category:

Craft & Hobbies/Woodworking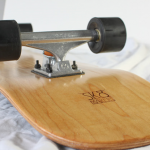 The Handmade Skateboard is the definitive book on building a skateboard from scratch. Part DIY manual and part history lesson, The Handmade Skateboard is the perfect book for skateboarders wanting to create a custom look, woodworkers and makers seeking a new project, or parents wanting to share their skateboarding past while spending time with their hands-on kids.
After an interesting review of the skateboard's history, The Handmade Skateboard provides step-by-step guidance for building five skateboards ranging from a simple Hack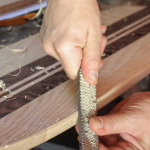 Board built in a few spare hours to a high-performance street deck pressed from seven layers of high-quality Maple veneer. A design chapter covers everything a builder needs to know about sizing and shaping the deck and choosing the right trucks and hardware. Also included are insightful pro-file sidebars offering a glimpse into the mindset and technique of some of today's most talented skateboard makers. In the end, with its crisp photos, helpful illustrations, and instructive narrative, The Handmade Skateboard provides all the motivation and information anyone needs to successfully craft a perfectly tailored — and head-turning —longboard, cruiser, or street deck from scratch.
About the Author: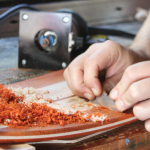 Matt Berger is a journalist and woodworker who earned his stripes at Fine Woodworking. A maker at heart, he began building skateboards as an undergrad at Cal-Poly. By day, he's a content manager for a major Silicon Valley technology company, producing video, social media, and interactive content for the web.