Kevazingo – Waterfall Bubinga Veneer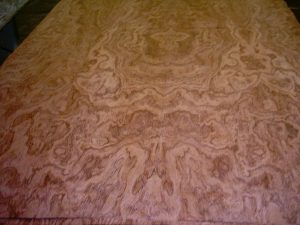 Kevazingo – Waterfall Bubinga is an unbelievably beautiful veneer that many consider rare and precious. In addition, Kevazingo's other known name, "Waterfall Bubinga," comes from the undulating and rippling pattern that is simply striking! Truly, the beauty in the detail of this wood makes it perfect for external surfaces like furniture, musical instruments, cabinetry, stairs, and paneling. Finally, the swirls within the veneer will add an exotic and "wild" sense to any project. Because of its rare nature, this veneer is definitely one that you want to get your hands on!
Call us today for more information or Click Here to see more of what Marwood has in stock!
Check us out on Facebook to stay up-to-date on what's going on at Marwood!
Item ID:
2560
Species Name:
Kevazingo
Other Names:
Waterfall Bubinga, African Rosewood
Source:
West Africa
Color:
Red-brown with lighter red to purple stripe or veining
Pattern:
Straight grained or interlocked; texture is moderately coarse.
Characteristics:
Heavy, some gum
Uses:
Turnings, handles, decorative veneer for fine interiors
Please click on an individual log to see complete details.